I'm excited to welcome Viviana MacKade to my blog to help celebrate the release of the Lawbreakers boxset that includes Viviana's newest hot romance, Painted Love, which you can purchase now on Amazon! Take it away, Viv.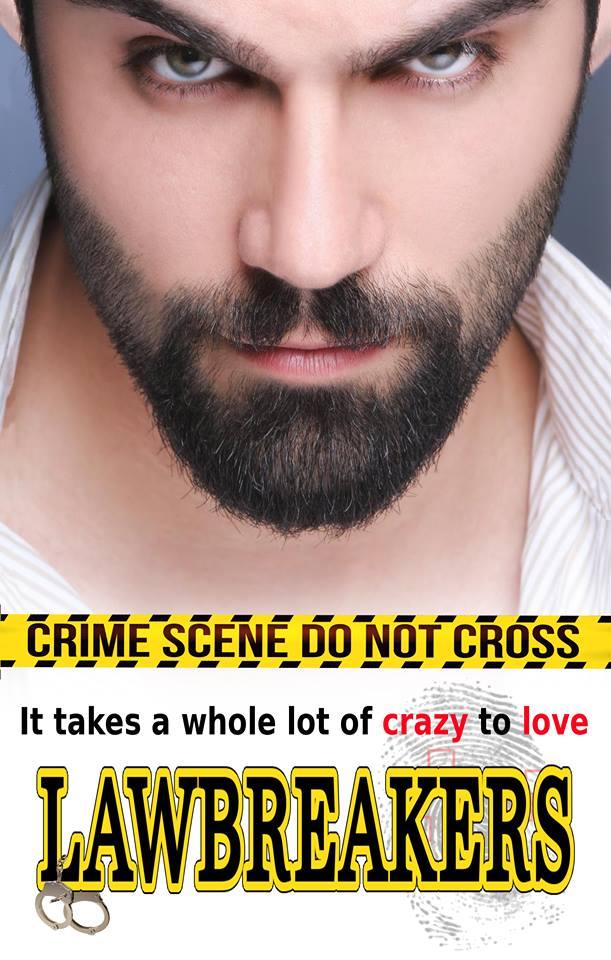 Painted Love by Viviana MacKade
Thou shalt not steal.
Oh, but Florence had, and would do so one last time.
Ten pieces her grandfather painted for her because he loved her.
Ten pieces her mother lost, along with anything else, for loving the wrong man.
She couldn't get back everything he'd wasted away, but she'd be damned if she'd give up those paintings.
Easy and genuine, Rhett loves his life–his family, his market, his town. Until he meets a British woman with grey eyes and a cute little smile. The woman he's been waiting for.
The thing is, to love her is easy, but can he trust her?
When Rhett pushes to uncover her agenda, Flo knows she will lose something–the man she loves or what she'd been fighting for years.
Which road will she choose?
CeeRee: Welcome to my blog, Viv!
Viv: Thanks for having me. I enjoy connecting with my readers and other authors and blogging let's me have that.
CeeRee: So, what sort of research did you do to write this book?
Viv: Well, I had to learn how to duplicate keys, different ways of stealing a painting… You know, same old same old in a writer's life.
CeeRee: Isn't that the truth. I tease my husband that if my browser history was ever searched it'd make for some interesting conversations…and maybe a few sticky situations. If your novel were being made into a movie, whom would you pick to play the lead roles?
Viv: My browser history is probably the same way. Well, for Rhett I would have to say Thomas Beaudoin, and Sienna Miller for Flo.
CeeRee: I'm really curious, and I'm sure your readers want to know as well. What are you working on now?
Viv: Aidan's story for this late spring, and a Christmas Story. Then we'll see what I can squeeze into this schedule.
CeeRee: Do you have a day job that cuts into your writing schedule?
Viv: My job's name is Massimo, my 4-year-old. He goes to day care half day, and for the other half we do all sorts of silly things… He'll start VPK in August. And that's when I'm going to start writing so much my fingers will bleed.
CeeRee: Kids are so much fun, especially if you fall into their never-ending imagination, then it can be limitless inspiration. But my fingers would itch to capture the stories. How do you keep from resenting your duties when you have to stop writing to take care of them?
Viv: I'm horrible at that, especially from time to time, like around Release time. I resent pretty much everything at that point, the time I spend doing things for the book because I want to stay with my family, and the time I spend with my family because I have stuff to do with my book. Luckily, it's just a couple of weeks and then it's back to a more normal crazy.
CeeRee: The balancing can be challenging, but rewarding in the end. The biggest surprise you had after becoming a writer.
Viv: It is rewarding. As for the biggest surprise, that was it. Becoming a writer, being able to do it, was the surprise. I wrote book(s), people liked them. Wow.
CeeRee: Same, I still pinch myself whenever someone sends me a comment on FB about one of my stories. Which kind of scenes are the hardest for you to write? Action, dialogue, sex?
Viv: Sex. I actually write the leading scene and moments to it, then I write THEY DO IT.
And I keep writing after that. Sex scenes are the last I write, and it takes me twice as much time as a normal scene. I don't know why. Might be because it's the most intimate thoughts I hear, and in a way, I want to give them privacy. But they are hard to write.
CeeRee: I agree the sex scenes are the hardest to write. I have to write those when I know I won't be disturbed, because otherwise I constantly look over my shoulder. Is there anything about the writing life that you think is misunderstood by the public?
Viv: That it is easy. It's not. It's not a hobby, it's hard work, commitment, constant study and learning.
CeeRee: Well said, Viv. It's faster to read a book than to write a book. Especially, if you want the book to ring with authenticity. So, what turns you on? And what turns you off?
Viv: A man with brain and culture. And I hate a closed mind.
CeeRee: I love men with brains, too. Do you have a favorite accent? Or if you could have an accent yourself what would it be?
Viv: My all-time favorite Hero (he's one of my Heroes, and the story is yet to be published) is from Texas, so maybe that's why I have a thing for that place. That's the accent I'd pick, too.
CeeRee: Just an odd question, but what bill do you hate paying the most?
Viv: It's not a bill, but I hate spending money on toilet paper. I understand and admit its importance but hell. It's so expensive for what it does…
CeeRee: I agree, but until someone invents the three seashells method we're stuck. I know when we've talked, you mentioned you're originally from Italy. Is there any huge difference between there and living in America?
Viv: I am Italian and I would have to say gas. As of today, my mom pays 1.57 Euros per one liter of regular gas. That is $1.9 for 0.25 gallon of regular. I love gas here.
CeeRee: What's your first reaction when the alarm goes off in the morning?
Viv: Nope. Not happening.
CeeRee: Do you have to be up early? Or can you sleep in?
Viv: Up early. No sleeping in with a four-year-old.
CeeRee *passes Viv coffee*: So, not a morning person. Is there an errand/chore you absolutely abhor?
Viv: Tidying up. I'm a messy person, and yet I'm the neatest person in my house. Bad combo. I hate taking everything around, and putting it back in its place.
CeeRee: I think many of us feel the same way. Okay, we'll have a fun question to finish. You know I'm going to ask, because I love music. What's your absolute favorite song?
Viv: The Outsiders by Eric Church. I don't know if it's the best song ever written, but it sure is the one that I feel the most.
CeeRee: That's what counts the most. Below is an excerpt of Viv's latest release. Thanks again for joining me, Viv. It was a pleasure interviewing you.
Viv: Thank you as well.
Excerpt:
London, October 31st
Florence Harper closed her mobile phone and put it back into her purse.
The end was coming.
In the dark late afternoon, a group of underdressed young witches strolled by the bench she sat on. Drunk already, judging by the disarticulate chuckles and screams. She never cared for any such thing. Never had time for it.
The muddy water of the Thames kept flowing. Always had, always will. Her life? That was about to change. For the better, she hoped.
Jacob had found Painted Love: the last piece of her broken heart was hiding in a small town on the other side of the ocean.
Crescent Creek. A fanciful name, romantic, even.
For Florence, it was only the place where she'd sin one last time.
Thou shalt not steal.
Oh, but she had, and she will.
All her life, or her adult life, had been touched by love one way or another.
The day she was born, her grandfather had made Painted Love. After, each year on her birthday he would give what he called a piece of his own heart to her. Only to her. The collection stopped after her tenth birthday, when Grandfather Paul passed away.
And soon after, her widowed mother remarried. Flo would never know if the decision came out of pure love, loneliness, or naiveté. But she did remarry. A bastard, of course. Within a few years, he'd bet and lost all. Money, properties, art. A divorce didn't change anything as it turned out, banks didn't care much about it, or death.
The bastard didn't live long. Official cause of death: blunt trauma from a fall. Word on the street was that someone had made that happen. For as much welcomed his demise was, herself, her mom and Jacob, the bastard's only son, had to work themselves to the bone to get on their feet again.
They did, though. Tired, depressed for all the mistakes she'd made, and unable to overcome guilt, her mom managed to have a couple of quiet years before she gave up and united with her father and her beloved first husband, Flo's dad.
But no matter how much of a successful photographer she'd become, or how much of a brilliant art curator Jacob was, the past haunted them. Florence couldn't forget what was taken away from her; Jacob couldn't shake off the shame of his own father's actions.
So, they decided to act, right some of the wrongs.
She would take back those ten pieces her grandfather made for her because he'd loved her, and her mother lost because she'd loved the wrong man. That man's son would help her achieve justice.
The irony.
And finally, Jacob had tracked down the last painting, the smallest one, through his private channels. Flo knew better than asking the hows, but she trusted him completely. Problem was, the actual owner of the Painted Love didn't want to sell, no matter the money offered, and that meant one thing: for one last time, she'd have to steal.
Well, it appeared she'd be taking a holiday. A vacation, as they would say in America.
She grabbed the mobile phone and started to plan.
~ Pickup your own Lawbreakers set and see what happens ~
Buy Link:
About the Author:
Beach bum and country music addicted, Viviana lives in a small Floridian town with her husband and her son, her die-hard fans and personal cheer squad. She spends her days between typing on her beloved keyboard, playing in the pool with her boy, and eating whatever her husband puts on her plate (the guy is that good, and she really loves eating). Besides beaching, she enjoys long walks, horse-riding, hiking, and pretty much whatever she can do outside with her family.
Viviana MacKade Can Be Found: