Welcome, Daryl! It's so great that you could stop by and share your sweet Christmas story with us as well as the music that helped inspire it. On that note…pun intended, take it away.
I am super excited to be here on CeeRee's blog. Let me start with I am not a musician. In my pre-writing life I was a dance teacher. I listened to what the musicians created. I reveled in the music. Some songs just filled my heart with joy. Which leads me to why I am here today.
One day a student came in and said, "You have GOT to listen to this."
I did and I loved it. I made a copy and listened to it over and over again. By the end of the day, I had the framework of the choreography worked out in my head. When I got home, I purchased a copy and the next day, I threw out my scheduled lesson plan and my senior dance class and I set to work. There was a deadline; they had 2 weeks to create and rehearse a routine to performance ready.
At the Christmas Assembly, they pulled it off. I was so proud of them. To this day, if I'm having a case of the blues – even in mid summer I will pop this song on and let it play.
What song? Trans Siberian Orchestra's version of Carol of the Bells – Christmas Eve/Sarajevo 12/24. To catch a listen –
Now – how does this fit with my new writing life? My publisher wanted a Christmas short story. They are releasing a book a day in December. I had to get into the Christmas spirit fast. I got my headphones out and played Christmas Eve/Sarajevo 12/24 over and over again.
The rock music signifies the mess of Giselle's life. It's not the life she had planned out for herself. In both Christmas Eve/Sarajevo 12/24 and Love in the Key of C – the underlying theme is – out of the chaos hope emerges.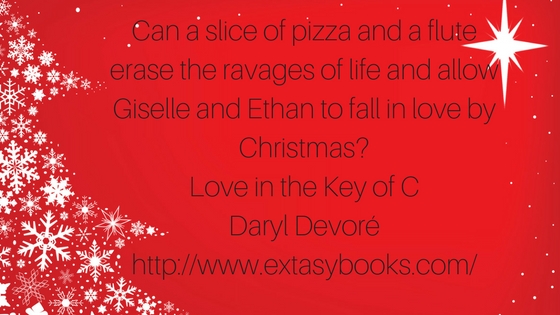 Excerpt:
Then she shattered any questions or debate. What did she do? She spoke to me. I was done for and I knew it. Her voice soothed that raw part of me that had refused to connect with another human for many years. Using heartbreak as an excuse, I'd closed myself off from others and submerged my life into my work.
What dramatic monologue had she stated to so captivate me? Two simple words—Beautiful music.
Music is my life. It consumes every second of my day. I wallow in it, yup, just like a pig in mud. Ew, I can hear you say, but the analogy is perfect. A pig rolls back and forth encasing its body with mud and enjoys every moment of it. That is me and music. I was probably born with a piano in my hands—okay, so maybe not, but you know what I mean.
The debate in me had ended and the result was decided before I was even aware of it. Words flowed out of my mouth as I invited her in. She didn't move. I saw the fear. Strange man, unfriendly city, add the two together and that equaled nothing good—abuse, assault, rape, or possibly death.
I knew I had less than a second to convince her I was not a pervert or a threat. My mind raced. What could I say? Trust me? Hell, no. She'd have heard that a hundred times and every time the one who said it had shattered that trust. I could see it. Her persona oozed the pain of betrayal.
Offer warmth and security. Sometimes I can be brilliant and yes, it amazes me. I explained about the concert hall and the people and silently prayed she'd step closer. Still she hesitated. Panic set in. I had to keep her near. You know, without kidnapping her.
Blurb:
Can a slice of pizza and a flute erase the ravages of life and allow Giselle and Ethan to fall in love by Christmas?
Collapsing in front the biggest department store in the city on one of the busiest days of the holiday season was not how Giselle imagined her day. Cold and hungry, she trudged through her daily existence wondering if she'd ever find happiness again.
Teenagers. Ethan loved working with them and turning their raw musical talent into something beautiful and rewarding, but that didn't fill the black void in his soul.
Like fate, the songwriters' muse nudged Giselle and Ethan together. But can Giselle overcome her fears and can Ethan get past the darkness that surrounds him, so they can find love?
Buy Link:
Bio:
Two writers in one. Daryl Devoré writes hot romances with sexy heroes and strong heroines. Victoria Adams is Daryl Devoré's alter ego when she's inspired to write sweet romances with little to no heat.
Daryl (@daryldevore) lives in an old farmhouse in Ontario, Canada, with her husband, a large salt water aquarium full of fish, a black cat named Licorice and some house ghosts. Her daughter is grown and has flown the nest. Daryl loves to take long walks on her quiet country road or snowshoe across the back acres, and in the summer, kayak along the St. Lawrence River. She has touched a moon rock, a mammoth, and a meteorite. She's been deep in the ocean in a submarine, flown high over Niagara Falls in a helicopter, and used the ladies room in a royal palace. Life's an adventure and Daryl's having fun living it.
Where to find Daryl Devoré:
Blog – http://daryldevore.blogspot.ca
Facebook – https://www.facebook.com/pages/Daryl-Devore/280168402052520
Twitter – http://twitter.com/daryldevore
Google+ – https://plus.google.com/u/0/107866370365154406917
(or Daryl Devore)
GoodReads Author Page – http://www.goodreads.com/DarylDevore
Amazon Author Page – http://www.amazon.com/-/e/B004TJ1354
LinkedIn – ca.linkedin.com/pub/daryl-devore/58/b42/792/
Pinterest – http://www.pinterest.com/search/pins/?q=Daryl%20Devore